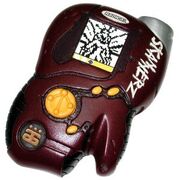 Ujalu (red) is the third of the original three tribes. monsters 085 to 126 were only downloadable by a red Ujalu Skanner. They could also download the 12 Outcast/Exile monsters.
The instruction Manual contained three starter monsters for each tribe.
Ujalu's starters: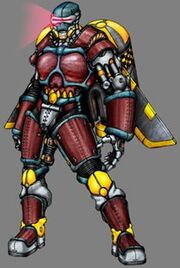 There is a bit of a mystery surrounding the monster on the boxart on packaged Ujalu Skannerz. While the Zendra and Pataak both have monsters from their monster cards that can be identified the Ujalu monster is not on any monster card from any of the Tribes.
It is possible that this is an alternate picture of #112 - Chronos. It is also a possibility that it's a picture of a monster that was made and cut before the release of the games.

All monsters collectible by a Ujalu Skanner:
| Monster № | Name | Tribe | Class | Level 1 Defense | Level 1 Speed | Level 2 Defense | Level 2 Speed | Level 3 Defense | Level 3 Speed | Level 1 Attack | Damage | Level 2 Attack | Damage | Level 3 Attack | Damage |
| --- | --- | --- | --- | --- | --- | --- | --- | --- | --- | --- | --- | --- | --- | --- | --- |
| 085 | Toxiana | Ujalu | Magic | 6 | 3 | 6 | 3 | 6 | 3 | Kaleidoscope | 4 | Strangle | 3 | Kiss of Death | 9* |
| 086 | Suds | Ujalu | Magic | 1 | 1 | 2 | 1 | 3 | 2 | Bubbles | 1 | Float | 3 | Brain Wash | 9 |
| 087 | Worm Hole | Ujalu | Magic | 3 | 1 | 4 | 2 | 4 | 2 | Grab | 4 | Star Dust | 3 | Worm Hole | 8 |
| 088 | Tribasaurus | Ujalu | Magic | 6 | 1 | 7 | 2 | 9 | 3 | Machete | 3 | Chant | 6 | Tribal Spell | 7 |
| 089 | Bloat | Ujalu | Magic | 4 | 1 | 7 | 1 | 8 | 1 | Ooze | 2 | Gas Cloud | 5* | Swell | 6 |
| 090 | Gallop | Ujalu | Magic | 4 | 2 | 5 | 3 | 6 | 3 | Spark | 2 | Power Buck | 4 | Thunder Hoof | 5 |
| 091 | Triton | Ujalu | Magic | 4 | 1 | 6 | 2 | 6 | 2 | Tail Lash | 2 | Sea Horn | 4 | Typoon | 7 |
| 092 | Hydra | Ujalu | Magic | 6 | 1 | 7 | 2 | 8 | 2 | Bite | 3 | Dragon Heart | 6 | Inferno | 9 |
| 093 | Kelp | Ujalu | Magic | 2 | 1 | 4 | 1 | 5 | 2 | Seaweed | 2 | Under Tow | 6 | Quick Sand | 8 |
| 094 | Spirit Orb | Ujalu | Magic | 7 | 2 | 7 | 3 | 7 | 3 | Flash | | | | | |
| 095 | Locus | Ujalu | Magic | 4 | 1 | 5 | 2 | 6 | 3 | Scratch | 4 | Tail Dust | 4 | Infest | 6 |
| 096 | Sea Serpent | Ujalu | Magic | 4 | 2 | 4 | 2 | 5 | 2 | Fang | 3 | Water Strike | 3 | Ocean Shock | 5 |
| 097 | Hagatha | Ujalu | Magic | 4 | 1 | 5 | 1 | 7 | 2 | Misfortune | 2 | Curse | 5 | Cosmic Spell | 5 |
| 098 | Shadow Fin | Ujalu | Magic | 4 | 1 | 5 | 2 | 5 | 2 | Summon | 1 | Black Cloak | 6 | Dark Storm | 9 |
| 099 | CRM 99 | Ujalu | Tech | 4 | 1 | 4 | 1 | 5 | 2 | Hologram | | | | | |
| 100 | Bo Bo | Ujalu | Tech | 6 | 2 | 7 | 3 | 7 | 3 | Laser | 3 | Torpedo | 4 | Sonar | 7 |
| 101 | Bull Bot | Ujalu | Tech | 4 | 2 | 6 | 2 | 6 | 3 | Cattle Prod | 2 | Electro Lasso | 3 | Turbo Charge | 6 |
| 102 | Merc | Ujalu | Tech | 6 | 2 | 6 | 3 | 7 | 2 | Punch | | | | | |
| 103 | Blastar | Ujalu | Tech | 4 | 1 | 5 | 1 | 6 | 2 | Radioactive | 1 | Blast | 4 | Micro Net | 5 |
| 104 | Mantis | Ujalu | Tech | 3 | 2 | 4 | 2 | 5 | 2 | Bite | 3 | Pounce | 5 | Impact Kick | 9 |
| 105 | Crustoid | Ujalu | Tech | 6 | 1 | 7 | 2 | 7 | 3 | Gamma Ray | 2 | Virus | 4* | Shut Down | 8 |
| 106 | Cyber Saw | Ujalu | Tech | 4 | 2 | 7 | 3 | 8 | 3 | Buzz Saw | 1 | Thrash | 3 | Psycho Slice | 7 |
| 107 | Scout | Ujalu | Tech | 4 | 2 | 5 | 3 | 6 | 3 | Vice Grip | 4 | Proton Blast | 3 | Death Scan | 6 |
| 108 | Mag Drag | Ujalu | Tech | 7 | 2 | 7 | 3 | 8 | 3 | Slash | 3 | Gatling Gun | 6 | Silver Dragon | 6 |
| 109 | Omnitron | Ujalu | Tech | 6 | 1 | 7 | 1 | 8 | 2 | Laser | 2 | Optic Blast | 5 | Retinal Pulse | 8 |
| 110 | Lady Bot | Ujalu | Tech | 4 | 1 | 4 | 1 | 5 | 1 | Shock | 1 | Magna Waves | 4 | Lightning Cannon | 9 |
| 111 | Skeeter | Ujalu | Tech | 4 | 2 | 5 | 3 | 7 | 3 | Visor Drill | 4 | Scratch | 3 | Hammerhead | 8 |
| 112 | Chronos | Ujalu | Tech | 4 | 2 | 5 | 2 | 6 | 3 | Punch | 3 | Impact Blast | 6 | Sonic Boom | 7 |
| 113 | Lex | Ujalu | Power | 2 | 1 | 4 | 1 | 6 | 2 | Fang | | | | | |
| 114 | Lava Bug | Ujalu | Power | 7 | 1 | 7 | 1 | 7 | 2 | Torch | 2 | Fire Web | 5 | Magma Spray | 5 |
| 115 | Mumster | Ujalu | Power | 4 | 1 | 5 | 1 | 5 | 2 | Hit | | | | | |
| 116 | Fina | Ujalu | Power | 4 | 2 | 4 | 3 | 5 | 3 | Arrow | | | | | |
| 117 | Razor Back | Ujalu | Power | 5 | 2 | 6 | 2 | 6 | 3 | Bite | 2 | Roll | 5 | Quill Shoot | 8 |
| 118 | Valdimere | Ujalu | Power | 4 | 3 | 6 | 3 | 6 | 3 | Slash | 6 | Tooth & Claw | 6 | Carnage | 7 |
| 119 | Bob | Ujalu | Power | 5 | 1 | 5 | 1 | 6 | 2 | Whack | 4 | Spike Club | 5 | Windmill | 6 |
| 120 | Gluteus | Ujalu | Power | 2 | 1 | 4 | 1 | 5 | 2 | Bad Breath | 3 | Tentacles | 4 | Regurgitate | 5 |
| 121 | Leech | Ujalu | Power | 3 | 1 | 4 | 2 | 6 | 2 | Slime | 2 | Dissolve | 3 | Acid | 6 |
| 122 | Lash | Ujalu | Power | 6 | 1 | 7 | 2 | 9 | 2 | Stare Down | 1 | Whip | 4 | Torture | 7 |
| 123 | Hobgoblin | Ujalu | Power | 4 | 1 | 5 | 1 | 8 | 1 | Bite | 4* | Headbutt | 6 | Mace | 8 |
| 124 | Zoy | Ujalu | Power | 4 | 1 | 5 | 1 | 6 | 2 | Pinch | 3 | Tenticlaw | 5 | Snap | 7 |
| 125 | Sandstone | Ujalu | Power | 5 | 2 | 5 | 2 | 6 | 2 | Sand Throw | 2 | Pound | 4 | Pyramid Crush | 6 |
| 126 | Nautilus | Ujalu | Power | 6 | 1 | 7 | 2 | 8 | 2 | Claw Thrust | 3 | Impale | 6 | Under Tow | 9 |
| 127 | Snoizel | Exiles | Magic | 3 | 1 | 3 | 1 | 3 | 1 | Conjure | 3 | Squeek | 6 | Black Blade | 7 |
| 128 | Hot Head | Exiles | Magic | 7 | 2 | 8 | 2 | 9 | 2 | Scorch | 4 | Blaze | 6 | Boil | 9 |
| 129 | Voodoo | Exiles | Magic | 5 | 3 | 5 | 3 | 5 | 3 | Charm | 4 | Curse | 3 | Shrink | 8 |
| 130 | Styx | Exiles | Magic | 9 | 3 | 9 | 3 | 9 | 3 | Whisper | 4 | Sickle | 5 | Decompose | 6 |
| 131 | Paing | Exiles | Tech | 7 | 1 | 7 | 1 | 7 | 1 | Slap | 1 | Gore | 4 | Mutate | 5 |
| 132 | Siphon | Exiles | Tech | 3 | 2 | 3 | 2 | 3 | 2 | Bio Blast | 4 | Strangle | 3 | Vacuum | 8 |
| 133 | Techumsa | Exiles | Tech | 5 | 1 | 5 | 1 | 5 | 1 | Impale | 3 | Stun | 3 | Laser Eye | 9 |
| 134 | Orbit | Exiles | Tech | 8 | 3 | 8 | 3 | 8 | 3 | Electrocute | 1 | Disruptor | 3 | Ion Storm | 7 |
| 135 | Salamandro | Exiles | Power | 7 | 2 | 7 | 2 | 7 | 2 | Bite | 1* | Scald | 4 | Lava Blast | 5 |
| 136 | Visionary | Exiles | Power | 4 | 2 | 4 | 2 | 4 | 2 | Gouge | 3 | Pummel | 6 | Paralyze | 5 |
| 137 | Death Blossom | Exiles | Power | 2 | 1 | 2 | 1 | 2 | 1 | Poison | 1* | Spore | 3 | Digest | 7 |
| 138 | Shard | Exiles | Power | 10 | 2 | 10 | 2 | 10 | 2 | Bite | 2 | Etch | 4 | Shard Storm | 8 |
-*note: these attacks have poison effect