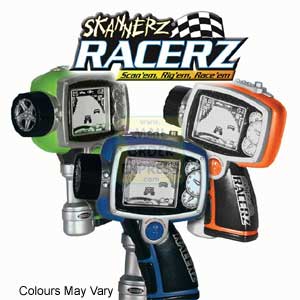 Skannerz Racerz is a standalone handheld video game created by Radica games. Unlike previous installments Skannerz Racerz does not involve battling monsters. Instead scanning barcodes would produce 'rides' to collect, parts to make the automobiles better, and races to use the automobiles in. Sometimes scanning the same barcode that previously got a ride or part would instead give some sort of bad luck such as having a car impounded and no longer avaliable or getting in a wreck and losing a part.
The game features a versus mode in which linking two system together would allow for racing against friends. Skannerz Racerz is incompatible with Skannerz, Skannerz Commander, or Skannerz Battle Orbz.
While there are 3 different colors of Skannerz Racerz. Unlike the Original Skannerz the colors do not actually feature different gameplay.