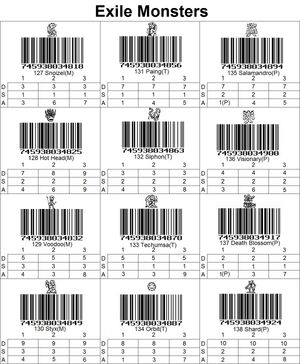 The Exiles (sometimes known as the Outcast Monsters) are 12 monsters that belong to none of the three tribes (Zendra, Pataak, Ujalu) these monsters could be scanned and aquired by all three, meaning that they are impossible to battle except through linking.
The first official mention of the Exiles was in the May 2002 edition of the "Tips and Tricks Magazine" which included a scannable barcode containing Orbit.
Later, cards containing three of the Exiles would be included with the Skannerz, they had holographic pictures of the monsters, as well as stats and a barcode to capture the monster. This means that Orbit, Shard, and Siphon are the only monsters to not be put on cards.
Zendra (blue) came with:
Pataak (green) came with:
Ujalu (red) came with:
It is currently unknown as to how one would have obtained Shard or Siphon as they were not included in any packaging.
See List of Monsters #127 to #138 for Exile monsters
Skannerz Commander
Edit
Twelve more secret monster were released for the later Skannerz Commander, they are completely separate from the original twelve. Like the Exile Monsters they are #127 to #138 on the Commanders monster list.
List of Secret Monsters:
127 - Ajuan
128 - Ava
129 - Ladoness
130 - Picotee
131 - Quezali
132 - Ray D Ator
133 - Laughtrack
134 - Lunabot
135 - Confuschen
136 - Hopper
137 - Harry
138 - Contortion