Skannerz primary fuction is scanning barcodes. there are four kinds of barcodes.
Containing a freindly monster
Containing an item
activating a battle.
Healing injuried monsters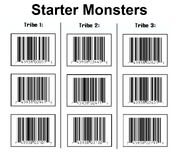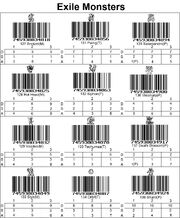 Every barcode in these sets act as a healing barcode as well.
Barcodes work differently in Skannerz Commander, they can be used to:
(DSM) the barcode let's the player either choose to Recruit or Banish a monster.
(BSM) These monsters want to fight, however, the player can run from the battle. If the battle is one the player has the option to recruit the first monster in the team.
(GMM) If a (DSM) or (BSM) monster is Banish the next time the barcode is scan the monster will attack, these battles can not be run from. If the match is one the player is given the choice to Recruit or Banish the monster again.
Contain an item
Heal Injuired monsters
Barcode types in Skannerz Racerz:
Cars or Trucks to use in races
Parts that can be installed on automoblies
Opponents to race against
Bad luck that takes away a car or a part.